Princely Dapo Abiodun's agricultural revolution gains traction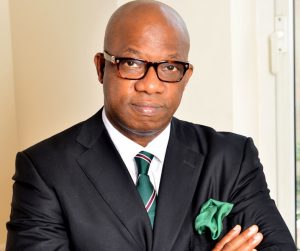 Ogun State Governor, Prince Dapo Abiodun, has made agriculture a priority for the state he administers.
His administration's agricultural agenda centres around six (6) key strategic pillars – food security and support to small-holder farmers, job creation through agricultural value chain opportunities, nutrition and food safety through the promotion of cultivation, consumption and business in nutritious and bio-fortified foods; agricultural Industrialisation and industrial linkage of young people/farmers to industrial process; agriculture hub; strategic partnership and private sector engagement to key into agricultural policies of the Federal Government of Nigeria, including diversification of the economy.
The state boasts of about the largest concentration of agro-allied industries, like the cassava-ethanol processors in Agbara, as well as rice factories, egg powder and garri processing factories.
Boosting the Federal Government of Nigeria's Agricultural Promotion Policy (APP) called 'Green Alternative,' which aims to tackle core challenges limiting food production and security through import substitution industrialisation, job creation, increased productivity and value chain development, Ogun State government has made deliberate efforts to deepen food production, value chain enhancement and investment-friendly environment for agro-industrialists and smallholder farmers.
Example Ad #2 (only visible for logged-in visitors)
Food Security and Farmers Support Systems
As part of its COVID-19 Agricultural Food Security Response Strategy, Ogun State flagged off the 2020 planting season in March 2020 at the onset of the pandemic. This was aimed at mitigating restrictions and challenges imposed on farmers and their households through the lockdown and associated restricted movement, demand limitation and farm input challenges.
Again, in its Free and Improved Planting Materials Palliative Initiative, 40,000 small-holder farmers were supported by the government with seeds, cassava stems, insecticides and herbicides. This was backed with Fertilizer Palliative Initiative for 10,000 small-holder farmers and continued support to production and processing locations in the food and farm sector in the state.
There was a flag-off of 2020 dry season rice harvest in March 2020 and wet season rice harvest in August 2020 by state-supported Youth Farmers Groups both covering over 900 hectares.
Other milestones include land preparation in 17 locations for 2,500 unemployed youths/farmers in cassava production, strategic partnership and support to unemployed graduates, attracting international development partners and farmers in large-scale cultivation of rice and cassava in 36 locations in 11 LGAs.
Agricultural linkage programme and job creation
As part of its agricultural linkage programme, the state government has embarked on registering over 70,000 registered interests from farmers, including youths and unemployed graduates in Agricultural Value Chain Programmes (AVCP) cutting across nine (9) agricultural commodities (cassava, maize, rice, fishery, poultry, cattle, piggery, cotton and oil palm); linkage of 4,462 participants to inputs and credit to the tune of N700m in the cassava value chain and 1,065 participants to inputs and credit to the tune of N300M in the rice value chain through the CBN/Ogun State Anchor Borrower's Programme (ABP); linkage of 800 participants to inputs and credit to the tune of N360million under the Ogun State Government/Federal Government/IFAD Assisted Value Chain Development Programme (VCDP); 394 Maize farmers, 54 rice farmers and 21 poultry farmers in the state have benefitted from the Nigeria Incentive-based Risk Sharing System for Agricultural Lending (NIRSAL) through the Central Bank of Nigeria (CBN).
Ogun Broiler Project
The broiler scheme is a flagship project of Ogun State, youth-focused and nutrition-based, with 54 pilot youths having successfully completed three cycles of broiler production. Each youth made a profit of N150,000 per cycle for three (3) cycles. 162,000 broilers and 3.24 metric tonnes of meat were produced.
At the official handover and closing/off-take ceremony of third (final) cycle of the pilot Ogun broiler project held at Odeda Farm Institute on Thursday, 8th October, 2020, Abiodun said: "I welcome stakeholders to yet another agricultural event which is in tandem with the agricultural Agenda of Ogun State government which include food security, job creation, industrialisation, private sector partnership and strategic partnership with all agencies in the food and farm sector.
Agricultural Investment Promotion Activities
On March 25, 2020, the Abiodun administration signed the Executive Order on Framework for Responsible and Inclusive Land Intensive Agricultural Investment (FRILIA), as part of moves to promote and encourage land-based opportunities in the state.
Also, the state rolled out the Agricultural Investment Promotion with over 30 National and International Investors, at different levels of engagement for Public Private Partnerships (PPP) in the state, targeted at agricultural industrialization, job creation and food security. Some of the partners include United Green, United Kingdom, Fan Milk Plc, Arla Foods Denmark, Indorama Fertilizer Ltd, Abuja; Hyst Global Ltd 'Okun Rice', Lagos/Ogun; Patec Foods, Kogi State (aquaculture); Amobyn Nigeria Ltd, Lagos (poultry); British American Tobacco Nig. Foundation (enterprise development), Tractorise Agro Company Ltd, Lagos; Savannah Concerns Development Company, Abuja; Origin Tech Group Nigeria Ltd, Lagos; CropIT, Lagos etc.
Over 33 private firms sent in their expressions of interest, indicating interest to partner with the state government in the provision of farm mechanization services, input service delivery and in the development of key value chains which include cassava, rice, fish, poultry, cattle, dairy, among other commodities.
Strategic Partnerships with National and International Development Agencies
Federal Government/IFAD Assisted Value Chain Development Programme (VCDP), include but not limited to the following milestones:
• 9,048 farmers supported with improved production inputs for rice and cassava, in 8 participating LGAs of VCDP in the state.
• 6,812 farmers have been trained on good Agronomic practices on cassava and rice
• Construction of 20km access roads in Obafemi-Owode, Yewa north and Ijebu north-east LGAs.
• Construction of 14 solar-powered water schemes in Ijebu north-east, Obafemi-Owode, Yewa north, Ifo, Ijebu east, Odeda and Odogbolu LGAs.
• Construction of four cassava processing centres at Baara, Alapako-Oni, Oke Iyemi and Ayetoro, and rice processing centre in Eggua.
• African Development Bank (proposed Special Agro-Industrial Processing Zone).
World Bank/Ogun State Economic Transformation Project (OGSTEP) for 40,000 farmers in Nine (9) priority value chains (cassava, maize, rice, soybean, tomatoes and pepper, sesame, fishery and poultry).
• Proposed World Bank COVID-19 Action Recovery and Economic Stimulus (CARES) Project;
Proposed World Bank-Assisted Agro-Processing, Agricultural Productivity Enhancement and Livelihood Improvement (APPEALS) Project;
• EU/GIZ/Federal Government/Lagos State/Ogun State Nigeria Competitiveness Project (NICOP) for 3,000 farmers including youths, in tomato and chilli pepper value chains;
• International Institute of Tropical Agriculture (IITA): Agricultural Technological Innovations and Support to Farming and Related activities, including technical backstopping, demonstration farms and enterprise development in Ogun State
• Central Bank of Nigeria (Cassava 5-Star Programme, Cocoa Development Initiative and Oil Palm Expansion Programme); Federal Government/Ogun State Government/IFAD Assisted Value Chain Development Programme for over 3,000 farmers in Eleven (11) Local Government Areas of Ogun State.
Partnership with Fan Milk
The state, through its Ministry of Agriculture and in partnership with Fan Milk Plc, intends to kick off a dairy backwards integration project for the improvement of the agricultural value chain and enhancement of local dairy production.
Fan Milk is planning to develop a flagship dairy farm (including pasture development and the launch of a Danone training institute for local farmers) within the Odeda Farm Institute in the Odeda Local Government Area of Ogun State.
The dairy company, one of Nigeria's leading fast-moving consumer goods companies offering healthy and nutritious dairy food products, said through its board chairman, Olayinka Akinkugbe, that the intention to partner with the state is borne out of the company's close observation of the laudable efforts the Ogun State Government has put into supporting and partnering with local and foreign investors.
World Bank/FG Appeals project in Ogun
On October16, 2020, the state received some project team members of the Federal Ministry of Agriculture/World Bank Assisted Agro-Processing, Agricultural Productivity Enhancement and Livelihood Improvement (APPEALS) project, who were on a scoping mission to Ogun State.
The APPEALS Project is aimed at improving the agricultural productivity of small and medium commercial farmers and increase value addition of priority agricultural value chains such as rice, cassava, cocoa, maize, aquaculture and others.
The project targets about 10,000 project beneficiaries, mostly farmers and cooperative societies, with 35% of them to be women and youths. Prince Abiodun recently approved the state's participation in the FMARD/World Bank Assisted APPEALS expansion project.
OGUN-CBN Anchor Borrower's Programme for 1,065 Young Cassava Farmers
On specific cassava intervention, the CBN/Wema Bank/Nigeria Cassava Growers Association/Ogun State Anchor Borrowers Programme linked the third batch of 1,065 Young Cassava Production farmers to credit amounting to N234,590,745 (N220,273 per farmer) across the 20 LGAs of the state, on October 8, 2020. These farmers have also been linked to inputs (herbicides, agrochemicals and improved planting materials) and guaranteed markets.
This third batch release was for young people, whom Prince Abiodun had approved land clearing for in 9 locations, namely: Apojola, Odeda LGA; Asa, Ewekoro LGA; Ojoowo/Ijebu Igbo, Ijebu North LGA; Omogbawojo, Odogbolu LGA; Pagbonrin, Imeko-Afon LGA; Itoro, Yewa South LGA; Ojere Village, Obafemi Owode LGA; Ikenne Dairy Farm, Ikenne LGA and Obafemi Town, Obafemi Owode LGA.
Other registered farmers, including young people, who are yet to be linked to credit under the Anchor Borrowers Programme are advised to follow and regard updates only from the authorized source, which is, Ogun State Ministry of Agriculture.
Also, work is in progress for farmers who are close to land clearing sites in Afon Farm Estate, Imeko-Afon LGA and Atoba, Remo North LGA. These have been verified by the CBN, with physical and digital geo-tagging. Meanwhile, land clearing and preparation, verifications and geo-tagging by the Ogun State Ministry of Agriculture, CBN and other stakeholders, are ongoing.
Taking pride in her comparative natural advantage of arable land, proximity to Lagos and housing of end-user companies, the state is supporting young rice and cassava farmers for food security, job creation and export production.