Fayemi aims for restoration of values in Ekiti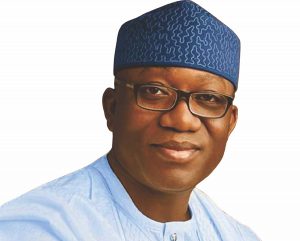 Upon his assumption of office for the second term, Dr. Kayode Fayemi directed the abolition of education levies in public and private schools which was put in place by the Fayose administration.
Besides this, Fayemi ensured the resuscitation of Gossi water which had been left unattended to by the previous administration.
Not only that, the administration ensured the construction of the new Ado-Iyin Road, which the governor promised would be completed in due time.
Example Ad #2 (only visible for logged-in visitors)
In addition, Fayemi ensured the rehabilitation and refurbishment of Ado-Ekiti Technical School and at the same time completed the abandoned Ekiti State Civic Centre.
Before his return to office, payment of allowances of past political office holders were put on hold but Governor Fayemi directed the payment of the backlog to those affected.
With Ekiti referred to as the fountain of knowledge, Fayemi has taken steps to make the state remain as acclaimed. On this score, the governor has established new secondary schools since returning to office.
His critics may disagree with the feat recorded so far by the administration, but Governor Fayemi has expressed satisfaction with his administration.
Recently, he said: "I am happy that we no longer have abandoned projects in Ekiti State. I am happy that our children do not pay education taxes again and still have access to free qualitative basic education. I am glad that our teachers do not have to use their money to buy teaching materials again and they receive their salaries as and when due."
Though the opposition Peoples Democratic Party, PDP disagree with Fayemi, the governor has promised to do more in the remaining years of his tenure.
Fayemi said: "As we progress into the future, we are hopeful that we will do better in our second year because we have laid a solid foundation. We are looking forward to a future full of hope, a future without poverty and a future with progress and prosperity."
Infrastructure
The Akannasan curve along Ado-Iyin Road has remained a nightmare for motorists, recording casualties at short intervals. Though successive administrations between 1999 and 2018, had tried to mount bumps to mitigate speed on the bad road, the number of mishaps only reduced; it didn't stop.
At the twilight of Fayemi's first coming in 2014, he had identified the road and the Ado Ekiti flyover, as being on his priority list if he won the 2014 election.
But he lost to Fayose and could not continue his second term.
Upon assumption of office for a second term, Fayemi immediately commenced construction of the Ado-Iyin road and mobilised contractors to site.
The construction of the 2-lane dual carriage 7km 4-lane with 8.8m width is ongoing with the assurance that it would be completed by December 2021. Knowing full well that the project would put an end to the incessant accidents between Iyin and Ado Ekiti, Ekiti people are already in ecstasy, waiting for its commissioning next year.
The road to Arinta Water Fall in Ipole Iloro and the popular Ikogosi Warm Spring, all in Ekiti West has had a thorough make-over and, because of this, the spring has become what it once was; it's true self.
Other projects include: Oye-Ayede-Ikun Road, Ilupeju-Ire-Igbemo-Ijan Road, Agbado-Ode-Isinbode-Omuo Road, Igbara-Odo-Ibuji Road, Ado-Iyin Dual Carriage Road, Fajuyi water booster, Ado Ekiti; Knowledge Zone, Polytechnic Road, Ado Ekiti, Oja Oba; Ikun Dairy Farm, College of Agriculture Isan-Ekiti, Airport fencing, Water Corporation Headquarters Iworoko, Comprehensive Health Centre in different locations (Kota Araromi Ekiti, Ijurin Ekiti, Ipoti Ekiti, Oye Ekiti, Ipoti Ekiti, Igogo Ekiti, Otun Ekiti, Isan Ekiti) and four model secondary schools named after prominent natives of Ekiti.
Education
In terms of education in the state, having fulfilled its obligations of Counterpart Funds of over N5b to initiate and access UBEC grants that paved the way for immense construction in all schools in the state. Having accessed these funds, the state government set about upgrading the College of Education, University of Education, Science & Technology, Ikere-Ekiti; establishment of State College of Agriculture and Technology, Isan Ekiti, as well as construction of four model secondary schools in Ado Ekiti.
Agriculture
The state recently issued a Certificate of Occupancy to Stallion Group for a $10 million rice mill in Ado-Ekiti, the state capital, while Dangote Group is also finalising plans to locate a $5 million mill within the same location, which is now being seen as the rice processing hub of the state.
FMS Farms is finalising plans to set up a $10 million starch processing plant and farm in Ikole council area, where it has already commenced farming activities.
Another agro-based firm, Promise Point, has also invested $15 million in its starch processing facility within the same area, which has also been designated as part of the Special Agro-Industrial Processing Zone.
Also, Promasidor has invested the sum of $5 million to renovate and operate the moribund Ikun Dairy Farm and another $5 million investment by JMK Foods to build a rice mill in the state.
There is much being done by Fayemi to bring the state up to speed with the times, much more than he did during his first spell in office. The enigmatic administrators has upped his game by showing his personable side and he is the better for it.
Just as Raheem Akingbolu wrote in his appraisal of Fayemi's second coming, "by the end of 2021, Fayemi and his team would have fully repositioned Ekiti and a challenging set agenda for his successor".