Launching of Smart City Estate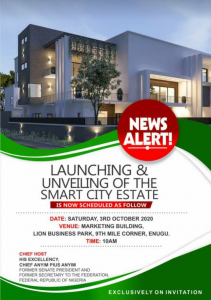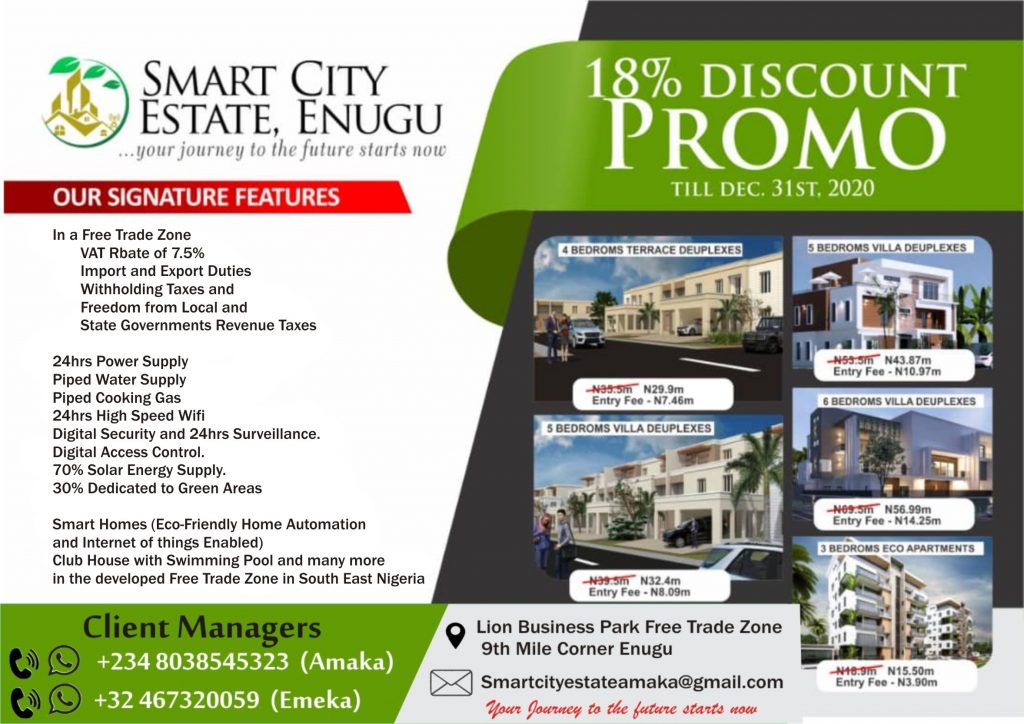 Brought to you by Chukwuemeka Chimerue , Jacqueline C. Nnadigwe , Chief Emeka Onuma.
Smart City Estate: 'If you live in this kind of house, you won't be anxious to die' — Dr. Okereke, MD Lion Business Park
Business developers, investors and dignitaries from different walks of life, yesterday, converged at the Lion Business Park, 9th Mile Corner, for the launching and unveiling of the signature residential development estate, Smart City Estate, Enugu.
The launching of the Estate located at the Enugu Industrial Free Trade Zone, which is one of its kind in the state, also attracted the presence of some political actors in the country.
Example Ad #2 (only visible for logged-in visitors)
Speaking during the launching of the estate, the Managing Director of Lion Business Park, Dr. Chris Okereke enlightened stakeholders, investors and residential seekers on why they should invest on the project, saying, "I know that some of you will agree with me that if you live in this kind of house, you won't be anxious to die because life is becoming meaningful…"
Dr. Okereke noted that the Smart City Estate located in a free trade zone has all the benefits of foreign inputs and constructed in a very secure, serene and technologically driven space to make life easier for its inhabitants.
He added that about 2000 hectares of land was utilized to engage potential investors for various activities, noting that provisions were also made for small, medium and large scale enterprises, including provision for worship centres and providing a platform for school leavers graduating from various universities in the South East.
According to him, "As you enter through that gate, we have done most of the necessary constructions with all the benefits of foreign inputs; a number of them, in a well secured environment. It's not only accommodation, what we have here is 2000 hectares of land. We're doing 20kms for concrete fencing to protect here.
"We're providing state-of-the-art infrastructures, such as 24 hours power supply, piped water supply, piped cooking gas, 24 hours high speed internet connectivity, solar energy supply, digital security and surveillance, roads and all the things that makes life in our modern world.
"We've signed some agreements with our brothers in the trade fair complex in Lagos to procure 20,000 shops; some of them would be 15, 20, 120 and 300 square metres. You can now imagine the volume of housing we're generating here. This does not include provisions for small, medium and large scale industries, provision for worshippers, provision for car wash and various activities.
"I personally believe that S'East has a lot of potentials. We have University of Nigeria, Nsukka, Nnamdi Azikiwe University, Awka, Enugu State University, Ebonyi, Owerri and what have you– these are respective institutions to present man power. We'll give them the platform to practicalize some of the things they're learning. So we're encouraging those who wants to participate to move in."
Smart Green Cities, the developers of the estate are also offering their investors an affordable first class travel with economy budget, a free trade zone where you get all forms of tax exemption, VAT, import and export duties, withholding taxes and freedom from local and state government revenue taxes and other benefits for easy convenience in nature and lifestyle.