Exclusive interview with Cote D'Ivoire's most promising young entrepreneur, Ibrahima Ben Aziz Konate, Founder of Volaille d'or
The innovation and entrepreneurship story of 25-year-old award-winning entrepreneur and Anzisha fellow – Ibrahima Ben Aziz Konate is worth sharing to inspire many budding entrepreneurs across the African continent that entrepreneurship is possible even at a very young age.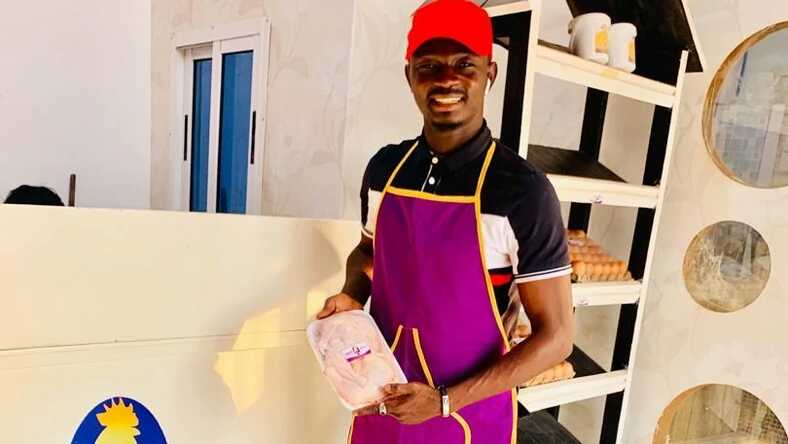 Ibrahima founded Volaille d'or at the young age of 18, and went on to become the first person ever from Cote D'Ivoire to win the Anzisha Grand Prize. He was selected (at the age of 18years) from a competitive pool of over 800 entrepreneurs from more than 32 African countries, for successfully creating a business that responds directly to an economic need within the community and also employs youth.
Since winning the prize Ibrahima has continued to surf the wave of accomplishments bagging numerous awards across Africa and internationally including from Tony Elumelu, Master Card Foundation (Anzisha prize), Forbes American Magazine's Among the 30 most promising young Africans; making him one of Cote D'Ivoire's most promising young entrepreneurs.
Today, Ibrahima serves as an inspirational coach and mentor for numerous young Africans in the agriculture sector and value chain, teaching young people across Africa how to successfully create and manage businesses. Let's hear from him in this exclusive interview.
Example Ad #2 (only visible for logged-in visitors)
Please tell us about yourself?
Ibrahima: My name is Ibrahima BEN Aziz Konate, I am 25 years of age and I hold a bachelor's degree in finance and a master's degree in business management. I have successfully established two business ventures: Volaille d'or and ITM (Metallurgical industry), and I am also a founding member and President of the Young Entrepreneurs League in Ivory Coast.
How did you discover your vision or what led you into this line of business/ career?
Ibrahima: Everything started with a story in the media which indicated that Ivory Coast continues to import frozen poultry and pictured the conditions under which 80% of local production is sold.
What's the one thing you wish you'd known before you started in business?
Ibrahima: Before going into business, I would have liked to experience firsthand the constant pressure under which advisors, directors or even mentors are constantly subjected to. As a young person, you learn as much as you can on the ground, and you neglect a number of things. Learning from your mistakes is fine but preventing them from happening is even better and stimulates fast business growth.
Describe your company- name, services/ products, other information you would like to provide.
Ibrahima: My company is known as Volaille d'or (The Golden Poultry) and our main objective is to facilitate access to high-quality food products for African populations. We started with 50 chicks at home and with a capital of 60.000 FCFA (120 USD), which I managed to collect thanks to my various sources of income, from being a construction site worker, to selling yams at the market, and operating a telephone booth. After surviving more than seven failed attempts, today we are not just a farm but a household name within the poultry industry. We have more than 30 permanent employees, we distribute tens of thousands of chickens per month, and we have implemented a distribution system through several selling points where the chickens are slaughtered on-site, packed, processed and delivered fresh to the customers so as to preserve all the flavour and protein. Our line of products includes a whole chicken, chicken legs, chicken thighs, chicken cutlets, chicken kebabs, drumsticks, chicken liver, chicken wings etc. We also have our own fast-food brand of breaded chicken meatballs which is called FOOD DOUX.
FOOD DOUX
Volaille d'or Chicken
Best business decision you've ever made?
Ibrahima: The best entrepreneurial decision I have ever made was to focus on a specific part of the business and to establish sub-contracting farms to reduce production risks and investments. Also, steady innovation and constant research throughout the company every year, a very important task that I personally handle.
What's the biggest mistake you ever made in business? How did you fix it?
Ibrahima: My biggest mistake in the company was being involved with every aspect of business operations which made it impossible for the company to run properly without me being there.
Today I have supervisors among our current staff, and I have learned how to delegate tasks, which allows the company to operate independently.
Volaille d'or Team
How do you define success?
Ibrahima: For me, success means having a dream and being able to make it a reality; braving obstacles; but also, and above all, to never give up…
What's your biggest achievement as an entrepreneur?
Ibrahima: My most significant achievement as an entrepreneur is to have succeeded in the implementation of a distribution model aligned with my vision and our capacity for constant innovation.
What is your favourite aspect of being an entrepreneur?
Ibrahima: As an entrepreneur, I enjoy the freedom of being able to live in my dreams and to dream big, but also my willingness to take risks.
What would you say are the top three skills needed to be a successful entrepreneur?
Ibrahima: An entrepreneur has to have:
A clear vision
Perseverance and lifelong learning
Constant innovation
Ben Aziz Konate, Founder of Volaille d'or
What key activities would you recommend entrepreneurs to invest their time in?
Ibrahima: Entrepreneurs have to attempt to gain knowledge, educate themselves, and constantly brainstorm on the company's short-term goals, find solutions to the company's challenges, and most importantly motivate and build a solid team.
What's your advice for a young and upcoming entrepreneur?
Ibrahima: Aspiring entrepreneurs need to learn how to deal with the resources they have and understand that funding only comes after they have proven themselves; they need to find a mentor able to offer experience in their respective fields and identify both good and bad suppliers; they also need to thoroughly study the market before setting up and consider innovative strategies.
If someone gave you $100,000 and said, "Invest this in your business by the end of the week – or lose it" what would you do?
Ibrahima: An opportunity stays an opportunity when you know how to seize it. I would invest the sum predicted in my financial projections and in accordance with our priorities, without necessarily investing all of the capital, even if I have to lose it. This time frame stays too narrow to make objective decisions and I would rather not invest in anything than making a bad investment.
-END-