"My boss, friend, brother and political ally"… The Ekweremadu Example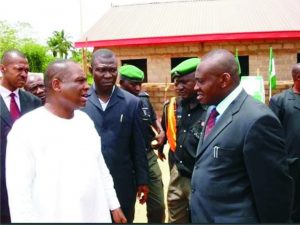 The leadership of Enugu West General Assembly (EWGA) has come hard again on Senator Ike Ekweremadu (Enugu West, PDP) for his unending hypocrisy, after he sent a birthday message to Senator Chimaroke Nnamani (Enugu East, PDP) on his 60th birthday.
EWGA thinks his birthday message to Nnamani, referring to him as "my boss, friend, brother and political ally", is misleading and misplaced in every ramification.
Going by several betrayals of Chimaroke by Ekweremadu (pitching tent with former governor Sullivan Chime, buying off Chimaroke's election for Gil Nnaji in 2015, sponsoring a litany of both civil and criminal cases against Chimaroke on behalf of Gil after the 2019 general elections, chiding with Ugwuanyi for 'rehabilitating' Chimaroke, just to name a few), this new show of love is frightening. Perhaps, it is due to Ekweremadu's malaria-induced dreams of being governor of Enugu State come 2023 that has suddenly made Nnamani his "boss, friend, brother and ally".
Where did Ekweremadu celebrate his "boss, brother, friend and ally" between 2011 and 2020? What is happening to the pre-arranged gubernatorial ambition-driven-marriage between his son and daughter of a former senator from Enugu East?
He made all manner of moves to stop Nnamani from returning to the Senate, fearing a tag-team of Ugwuanyi and Chimaroke will sink his ambition. Now he is shamelessly calling him his "brother, friend and ally".
Ekweremadu has dealt indelible blows to almost every political figure one can imagine in the state.
We can recall the fate of the Nwodo political family and Ekweremadu's treachery, the betrayal that led to the ignominous ouster of Okwesilize Nwodo as the national chairman of the PDP in 2010 amongst others.
The leadership of the EWGA, led by Comrade Humphrey Onyima, is calling on His Excellency, Rt. Hon. Ifeanyi Ugwuanyi, the Executive Governor of Enugu State, the Nsukka people and Ndi Enugu to be wary of Ekweremadu.
He will betray the governor just like he betrayed Chimaroke Nnamani. He is a green snake in a green grass, but he has run out of luck this time.
He will betray no one anymore.