EKWEREMADU – Ibekaku, Osita Okechukwu on a Wild Goose Chase – By Frank Onyia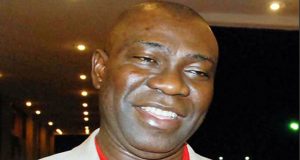 The recent campaign of calumny against Deputy Senate President Ike Ekweremadu by the Special Adviser to President Muhammadu Buhari on Judicial Reform Juliet Ibekaku Nwagwu and Voice of Nigeria Director-general Osita Okechukwu over the alleged lack of leadership and infrastructural development in Enugu West is quite unfortunate, an exercise in futility and a wild goose chase.
According to them, huge portions of the funds meant for projects in the zone have been expended but leave more to be expected when equated with the reality on ground.
I think both Ibekaku and Okechukwu got it twisted. They are accusing Ekweremadu of what they should be accusing President Buhari of: non-performance, despite the huge amount of resources appropriated in the national budgets of 2016, 2017 and 2018, without evidence of performance across the country. Worse, poverty is at an alarming rate, [there are] killings everywhere in spite of the huge budget on security, and…the list is long.
Example Ad #2 (only visible for logged-in visitors)
It is unthinkable and a tad hypocritical that Ibekaku and Okechukwu are parading themselves as agents of nebulous change in Enugu West, supporting a government that folds its arms while their kit and kin are harassed and slaughtered by sick, uncontrollable, marauding herdsmen.
Ibekaku and Okechukwu should know that their 'ballistic missiles' have no electoral value and are incapable of having any 'nuclear' effect prior to the polls. At best, their rants may not be effective beyond their polling units. The duo fail to understand that Ekweremadu's socio-political value has spread beyond their thinking and the cultural walls of the Southeast. Ibekaku and Okechukwu should reserve their energy in resolving the two factions of their drowning political party in Enugu State first before 2019.
Who they work for and what they aim to achieve by their ignominious mission is an issue for another day, but they must know that, according to history and prior to elections, it is always another Southeasterner who is used to bring down his/her kin who aspires for a higher office by an external factor, because, according to these non-entities, "the Igbos are never united in politics". I am pleased to announce to these two that, before they and their sponsors are roundly shamed at the polls to show that the Igbos are quite united in a course they believe in, they will soon lose their value to whatever interest they represent and be discarded like many before them.
Ibekaku and Okechukwu's newly launched political battle against Ekweremadu can best be described as a case in which toddlers seek to fight an elephant or clowns try to outshine a professor in the academic square.
To read a more proper response to Ibekaku and Okechukwu's allegations of poor performance as per constituency development projects in Enugu West, visit http://leadershipscorecard.com/2018/09/12/ike-ekweremadu-emerging-light-for-tomorrows-nigeria-by-Frank Onyia/ to read the article "Ike Ekweremadu: Emerging Light for Tomorrow's Nigeria" and let us know your thoughts.